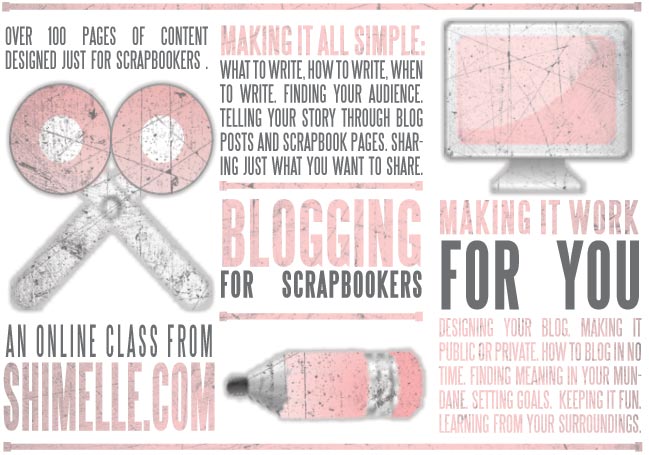 In October, I will celebrate 5 years of blogging! I never intended it to be an online diary, but for it to be a way for me to share my scrapbooking. This is my fifth blog in fact. I had one tutorial blog, (
Everyday Digital Scrapbooking
) and four scrapbooking blogs:
Inspiration for Generation C
, Inspiration for Generation C 2.0, and now Inspiration for Generation C 2.00.
I had to start Inspiration C 2.0 because I actually lost the password to the first one! I took a break from blogging, and this was before blogger was linked with gmail. Then when I decided to start up my blog again, I couldn't remember my password, and by that time blogger was linked with google, and google makes it just about impossible to recover lost passwords as I didn't have my password linked to a secondary email or I no longer used that secondary email.
Then I had to recently start this blog because the last blog got hacked into. I'm a bit bitter about that so I won't go into much right now.
So my intentions in taking
Blogging for Scrapbookers
, a class by
shimelle
, are 1) to blog about all forms of scrapbooking: paper, hybrid, and digital as well as art journaling, challenges, some photography, and scrapbooking publications; 2) connect with fellow scrapbookers; 3) offer tutorials on all forms of scrapbooking and also art journaling; 4) share deals that I hear about regarding scrapbooking; 5) share class projects that I complete. I suspect that you, the reader, like me, are a TOTAL scrapbook addict so hopefully my blog will continue to grow. I want this class to help my blog be more interesting and FUN for the reader.
Last month, in February, I tried for the first time to blog every single day and I succeeded, and so far in March I think I only missed one or two days! But I confess, as March draws close to an end, that I'm struggling getting those posts out every day. I hope for this class to help with content.
Are you taking the class too?
Enjoy This Post?
Want More?
Subscribe by Email
Add to Google Reader