Shimelle
is hosting
10 Things
, a meme where you post 10 things on your blog, then add your link on her blog, and visit all the other blogs linked there to see what amazing 10 things they have shared! You pick what you want to share. It has to be 10 things. No more, no less.
I decided to share
10 Things From Pinterest:
of one of my favorite things - Butterflies!!! Enjoy!
#1. Butterflies tutorial
#2. Paper Butterflies Sanctuary Tutorial for Kids
#3. Copic Butterflies Tutorial
#4. Empty Frames with Butterflies Idea
#5. Felt Butterfly on Etsy
#6. DIY Idea - Butterflies on Paper Laterns
#7. Layout by Elizabeth Kartchner
#9. Layered Butterflies Tutorial
#10. Butterflies in Jar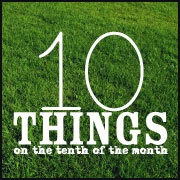 Enjoy This Post?
Want More?
Subscribe by Email
Add to Google Reader
Pin It