Want some inspiration? First, you can check out the Master Forgers' layouts all pictured in
this one post here
, along with October Guest Designer Keri Babbitt. Then you can also check out my
Pinterest Layering Board
too.
More views of my layout.... I used a sketch from the PageMaps 2011 Wall Calendar.
Join our fun!
And don't forget, the October sponsor for the Counterfeit Kit Challenge blog is
All you need to do is like them on their
Facebook page
, leave them a comment on there letting them know CKC sent you, and then send an e-mail to
counterfeitkitchallenge@yahoo.com
and let them know you it.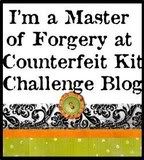 Thanks everyone for their prayers and emails about my missing cousin. My aunt and uncle picked her up from the police station Friday night, I assume the police found her, I don't know the story yet as I wanted to give them some time to settle in. I am kissing the ground and praising the Lord because many of us had feared the worst had happened to her. She is okay and we are so very grateful. I couldn't have made it through the past 5 days without all of your support and prayers!
Enjoy This Post?
Want More?
Subscribe by Email
Add to Google Reader