Welcome friends! I'm so excited to share with you the New Counterfeit Kits for November!
As posted on the
Counterfeit Kit Challenge blog
, "If you have ever browsed through those great monthly scrapbook kit clubs and admired their
beautiful
kits...but
knew
you needed more supplies, like a "hole in the head"...you know who you are (you're the one with TONS of supplies and embellishments in your ever growing scrapbook stash)...this challenge is for you!
On the 5th of every month here at the
Counterfeit Kit Challenge Blog
, we will choose a kit from a popular kit club (for inspiration) and challenge you to create a "counterfeit kit", using just the supplies you already own."
Welcome to our 11th month of Counterfeiting!!! We just wanted to remind everyone that this month's sponsor (and inspiration kit) is
Scraptastic Club
. They are giving away a $20 gift certificate to this month's winner! For more details, see
this post.
This Month's Inspiration Kit...
The November 2011 Inspiration Kits are 2 current kits, just released from Scraptastic Club.
You can view the November 2011 inspiration kits (and the lists of contents) from Scraptastic Club
here
. There are two kits to choose from, feel free to counterfeit either of the kits. If you want to do both of them, that's great too!"
I am counterfeiting the "Home Sweet Home" kit,as pictured below, from Scraptastic.
My Kit: Blessings and Heartstrings
I divided my Main Kit this month into Page Kits as suggested on the Counterfeit Kit Challenge Blog under how to use Kits.
Here are the Mini Page Kits...
I think this first kit might be for a vacation or summer layout. I love the aqua and red color combo and of course, the wood grain. A couple journaling blocks that mimic the whimsical frames in the patterned paper by Sassafrass. Yummy flowers by Prima.
Total 7gypsies vibe here based on the Life Is Good paper. Vintage is the name of the game here. I can't wait to play with this page kit.
I've already played with this page kit a little, and ended up doing something totally different than what I expected! I had to add a few things in order to accomplish the project as it was a gift. Maybe I'll share tomorrow!
Pretty in pink is this page kit. Perhaps I'll make a layout about a summer picnic or a gratitude page about friendships.
Garden delights and all things floral. If you don't quite recognize the orange paper, it's because I spray-painted a pattern over the patterned paper.
Romantic and sweet. A little bit of vintage, and a little bit of sophistication.
Happy and cheerful. A page kit about our family, our home.
Now it's your turn!
"We challenge you to jump right in, join us, be inspired, create, and share your work! We can't wait to meet you!
TERMS OF USE- Although "scraplifting" is well-received (and common) in the scrapbook community, we would like to remind you that all of the information, links, and artwork on this blog are intended for personal use only. Please do not re-create any kits for resale. Please do not use any of the downloadable images or artwork for resale without reading and following the specific guidelines laid out by the site you have obtained the image(s) from. Thank you!"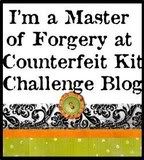 Enjoy This Post?
Want More?
Subscribe by Email
Add to Google Reader