The blog hop challenge for November was to make a home decor item. This is also a design team project for
Say It With Letters
. I took the wooden tree shape from SIWL and painted it this fresh green color, then added glitter. Then I made flowers from my Nestabilities die, in patterned paper that matches my December Daily Kit that is posted below. I used embossed black cardstock for the tree base. I just love the finished result.
I also made a kit for December Daily.
Now I have to confess that the album in the middle is my album from last year that I barely got past day three. I'm not sure if I'm going to use it for 2011 yet or if I'm going to try to complete 2010 and 2011 at the same time, using the storybook as the album for 2011. This will be year 5? that I've joined
Shimelle's Journal Your Christmas
.
Your next stop on the blog hop is
awesomepants

Kim

!
Blog Hop Order of Counterfeit Kit Challenge Master Forgers and Scraptastic Friends: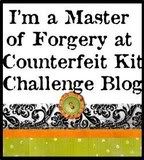 Enjoy This Post?
Want More?
Subscribe by Email
Add to Google Reader